Parties, Events and Other Senior Hiker Happenings
-----------------------------------------------------------------------------------------
A tea party farewell for Thursday hiker Joan Raleigh
Friday, Nov 6, 2015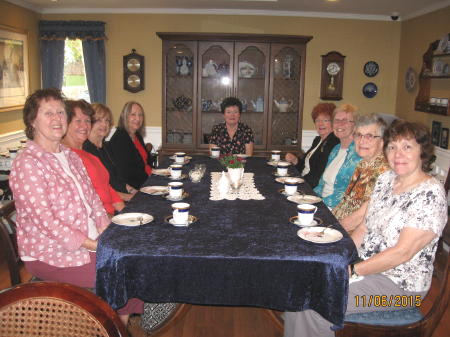 -----------------------------------------------------------------------------------------
Friday Unofficial Hike
October 17, 2014
photo thanks to Deirdre McNamara


Some of us meet unofficially every Friday in Holmdel at 9:30am
and hike around the lake then up the Beech trail to the bowl and on from there.
All are welcome to join us. There's always someone to walk and talk with whatever your pace.
-----------------------------------------------------------------------------------------
Picnic, Wednesday, July 25, 2012
click on pic to see more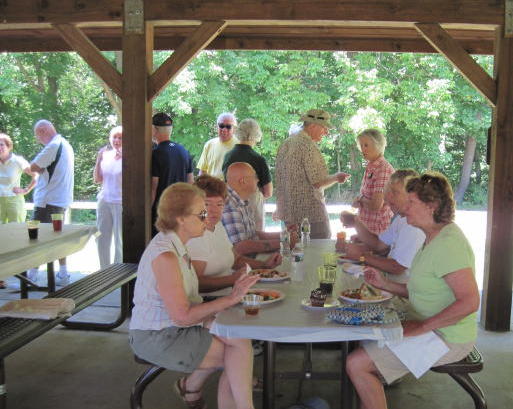 -----------------------------------------------------------------------------------------
Christmas Party, Dec 14, 2011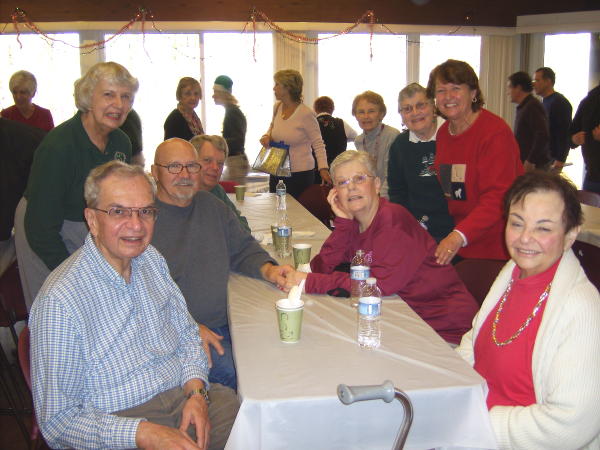 Click on photo to view more pictures
Thanks to Gina Goodrich for the photos
-----------------------------------------------------------------------------------------
A Serendipity Day in New York, 11/11/11
Featuring a Walk on the High Line
-----------------------------------------------------------------------------------------
-----------------------------------------------------------------------------------------
-----------------------------------------------------------------------------------------
Summer Picnic, July 9, 2009
Photos thanks to Bob and Betty Randall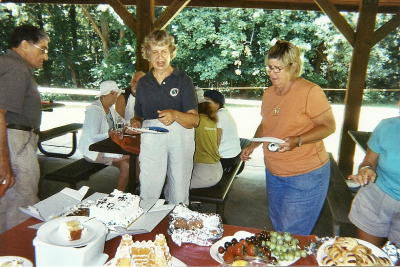 Click here for more photos
-----------------------------------------------------------------------------------------
Christmas, 2008
Photos thanks to Ingrid Heldt


18 people hiked -- 42 came to eat


Richard Scott was awarded a plaque for his
long service to the Park System
Interview of Richard Scott in the Narozanick World War II Resource Center
about his experiences as a machine gunner under Gen. Patton in WWII
March 28, 2008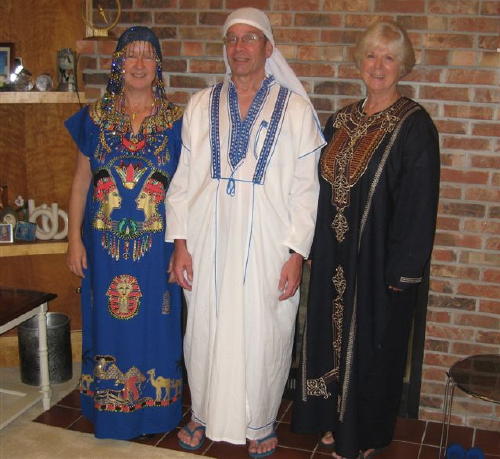 Pat and Steve Miller hosted a travelogue party to talk about, relive and share their Overseas Adventure trip of last April. It happens that Dian Woodroffe and Marilyn Poley took the same trip one day behind the Millers, and so Diane acted as co-host. Regrettably, Marilyn had to miss the party.
There were refreshments aplenty and lots of good discussion. Steve showed his edited (chopped from 17 hrs to 1 hr) and very professional movie, complete with subtitles and Egyptian background music.
A great big THANKS to Pat, Steve and Dian from all of us who attended!
Booklet Presented to Doris on the Occasion of Her 80th Birthday

This will open in a separate browser window
Thompson Park Visitors Center after the fire of Feb 6, 2006